School & Program Overview
Here is a brief overview of some of the unique STEM programs that we offer.
What stands us apart is the mentorship we provide our students from industry
professional that inspire and engage each child in creative STEM learning.
See more of our programs in the drop down menu above.
Hands-On Learning
In STEM + the Arts
We are a non-profit educational organization inspiring and sharing the passion of STEM+A (science, technology, engineering, math, and the arts) through innovative hands-on learning. With small class sizes and professional engineering instructors and mentors, we provide a uniquely diverse and inclusive setting where budding scientists (6-18 years old) have access to state-of-the-art equipment including robotics, 3D design printing, laser cutters and much more. Welcome to Roots 2 STEM!
Explore this site and see all the various programs we offer in-school, after school, and throughout the year. We would love to tour you through our facility and showcase the 7,100 sq. ft. laboratory of tools and technology that our students put to creative use.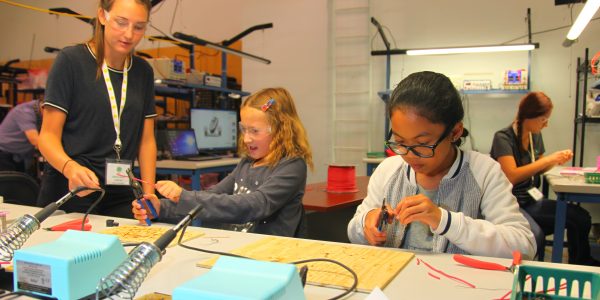 Inspiring Students
Think Different - Be a Future Leader
Today's students demand rich and immersive learning experiences that parallel their fast paced digital lives. Youth need a variety of opportunities to begin building STEM skills that match their potential and improve their awareness through building projects. With each program, students use the science testing process and the engineering design process to solve problems.
The future Canadian economy will rely on essential skills in STEM to grow and innovate. Digital literacy and computer science will be the driving factors that shape our next generation of future leaders and innovators. Other essential skills like critical thinking, problem solving, collaboration and entrepreneurship will also be foundational for all youth.
Inspire and empower future global scientists, engineers, and technology experts.
Follow us on social media.